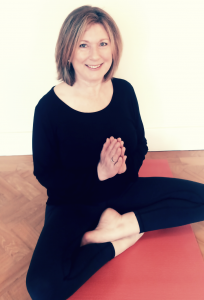 Hi I'm Deb, I live on the beautiful Northumberland coastline and have been a yoga practitioner for over 20 years. In 2015 I completed my teacher training with Brian Cooper at The Yogaspace in Leeds.
I teach weekly sessions of yoga and pilates around my local community and online from my home studio. I also host monthly workshops and during the summer months yoga sessions on the beach. Alongside my local community yoga sessions I offer visitors to the area a chance to enjoy yoga outdoors on the beach either in a group or as a private setting.
Being passionate about sharing the benefits of yoga I welcome all people to my sessions including complete beginners. Perhaps you are a complete beginner and feel inflexible or maybe you would like to deepen your practice. I teach a traditional style of yoga whilst keeping it functional for modern life, offering students a chance to stretch out, strengthen, focus on the present and switch off from the daily toil. 
My hope is that after one of my sessions, you step off your mat feeling refreshed and nourished with a renewed, balanced energy. The hardest part is to show up!
Please be in touch for more details or if you have any questions.